TARIF, PRIX et COURS sup de co Marrakech / GEM 2017
Auteur / professeur : Hubert Kratiroff
Directrice du programme : Marie-France Lefevre
Direction du master : Mohamed Idrissi
Date : vendredi 24 / samedi 25 / 26 mars 2017
Grenoble Ecole de Management www.grenoble-em.com
Sup De Co Marrakech (École supérieure de commerce de Marrakech) www.supdeco.ma
retour tslm

---
Cours Marketing des Services
1 - Concepts Fondamentaux marketing des services.pdf
2 - Plan_Marketing.pdf
3 - Digital_Markting.pdf
4 - Strategie.pdf
5 - Quizz.pdf
6 - Plan marketing une page de PG & kratiroff.pdf
7 - Plan marketing 30 pages par kratiroff.pdf
8 - Chef de produuit : pour bien commencer.pdf
9 - Checklist strategie.pdf
10 - Les acronymes du marketing de kratiroff.pdf
11 - Syllabus plan cours GEM supdeco marrakech.pdf

---
Coordonnées
---
Syllabus / Cours Marketing des Services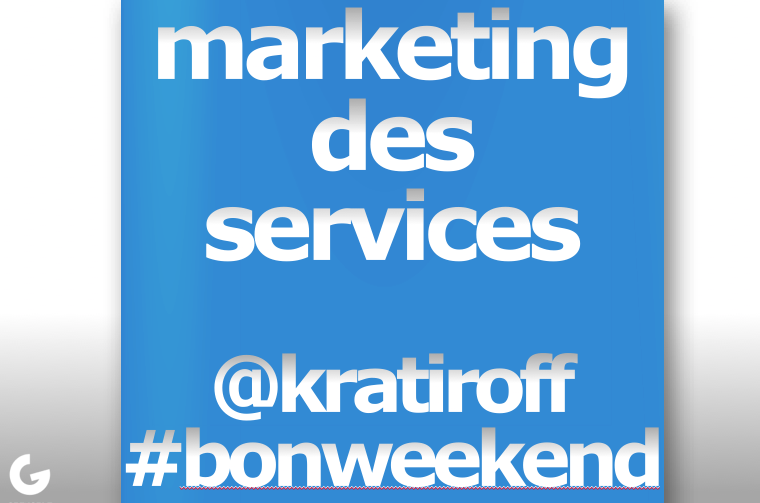 gem supdeco marrakech kratiroff
COURS
LES FONDAMENTAUX DU MARKETING DES SERVICES

Volume horaire

16 h : Divisé en quatre sessions de 4 heures

Crédit ECTS

2 crédits / coef 1       

Intervenant responsable

Hubert Kratiroff
« hubert.kratiroff@grenoble-em.com »

« hubert@kratiroff.com »

Pré-requis

BAC+5/6

Objectifs d'apprentissage

Comprendre les spécificités du marketing des services.

S'approprier les différentes notions qui permettent de bâtir et gérer une offre de service.

Construire un plan marketing incluant les éléments stratégiques et des outils de Digital Marketing.

Introduction aux stratégies d'entreprises

Descriptif du cours

1/ Introduction au marketing des services :

Qu'est-ce qu'un service, différences / ressemblances entre les biens et les services ;

Similitudes et différences entre le marketing des biens et des services XtoX ;

Le client et le salarié sont au cœur des services (parcours/expériences clients & symétrie des attentions) ;

Les services verts : développement durable et RSE ;

Les ressources humaines comme facteur clé de succès ;

Le CRM : nouvel impératif des entreprises.

2/ Plan Marketing (PM) dans les industries de services :

La démarche marketing et les parties du plan marketing ;

Méthodologie d'élaboration du PM et les modèles ;

Outils d'analyse stratégique ;

Objectifs, ciblage, segmentation et positionnement des offres ;

Construire et positionner une offre de service, les politiques de prix, la communication et les marketing-mix ;

Élaboration des prévisions de ventes et du business plan.

3/ Les outils de Digital Marketing (DM) pour la promotion des services :

Place du DM dans la stratégie des entreprises de services ;

État de l'art du DM ;

Nécessité des outils numériques dans les services ;

Taxinomie des outils digitaux et démonstrations de quelques outils informatiques (xmind, xCode, Trello, ProjectLibre…)

Introduction au CRM/VRM/ABM et à la gestion des relations clients.

4/ Stratégie marketing des entreprises de services :

Stratégie business et e-business ;

La CMI (Communication Marketing ou Multicanale Intégrée) nouvel enjeu des stratégies d'entreprises de services ;

Élaboration des stratégies en fonctions du système d'objectifs ;

Classification des stratégies ;

Business model generation (BMG), yield management et uberisation (servicisation).

Téléchargement des documents avant et après le cours sur :

www.toutsurlemarketing.com/supdecomarrakech/

Méthodologie

Méthodologie interactive avec une partie présentation intercalée de nombreuses discussions.

Au moins un exemple complet de réalisation par session.

Les trois quizz de compréhension seront corrigés immédiatement pour une évaluation individuelle.

Les étudiants peuvent avoir besoin de leur PC pour appliquer certaines parties du cours, télécharger des supports supplémentaires ou utiliser certains logiciels (mind map, diagramme de Gantt…).

Évaluation

3 Quizz et une question de réflexion :

A la fin des trois premières parties un quizz de compréhension notés sur 20 ;

A la fin de la quatrième partie une question de réflexion sur l'ensemble des 4 partie noté sur 20.

Des points bonus seront attribués pour les participations les plus actives pendant les 4 sessions

Note finale : Quizz1 + Quizz2 + Quizz3 + question de réflexion + points bonus de participation divisé par 4.

Bibliographie

1/ Must-reads

Fonction Chef de Produit Marketing – Hubert Kratiroff – Dunod (1ère partie distribuée dans les documents de cours)

L'art de la guerre – Sun Tzu – Libre chargement sur www.artdelaguerre.com

Lexique du marketing - Nicole Prades – Breal ou www.toutsurlemarketing.com/acronyme-marketing

Stokes, R. (2013). eMarketing: The Essential Guide to Digital Marketing (5th ed.). Cape Town, South Africa: Quirk Education à télécharger gratuitement ici
www.redandyellow.co.za/courses/textbook-digital

Permission marketing - Seth Godin - Maxima

Wikinomics - Don Tapscott - Pearson

22 lois du marketing - Jack Trout & Al Ries - Dunod

Le marketing - Armand Dayan - Puf

2/ Pour aller plus loin

Plan marketing - N. Van Laethem  - Dunod

Lexicom – Les 3000 mots marketing/communication – Milon / Saint-Michel 

Les grands auteurs en marketing – Alain Jolibert – Management Et Societe

MBA Marketing, synthèse des meilleurs cours américains – Schewe – Maxima

Mercator- Théorie et pratique du marketing – Lendrevie  Lindon – Dalloz

Le marketing selon Kotler – Philip Kotler 

Le publicitor – Jacques Lendrevie Bernard Brochand – Dalloz

Strategor Politique générale de l'entreprise, stratégie –JP Détrie

3/ Conseils

La plupart de ces ouvrages sont disponibles sous forme d'e-book dont nous vous conseillons l'usage. Certains de ces ouvrages peuvent aussi être lus en lignes avec une méthode de recherche appropriée : saisir « filetype:pdf » dans Google après le titre du livre, ou directement dans GoogleBooks (books.google.com).

Webographie

Sites internet :

www.toutsurlemarketing.com

www.chefdeproduit.com

www.e-marketing.fr

www.ama.org

www.lentreprise.com

www.strategies.fr

www.lsa.fr

www.infosmd.com

www.adetem.org          

www.marketingweek.com

www.designweek.co.uk

www.creativereview.co.uk

www.mediapost.com

www.adweek.com

www.ladn.eu (abonnement à la NewsLetter)

www.influencia.net (abonnement à la NewsLetter)

www.econsultancy.com (abonnement à la NewsLetter)

www.emarketer.com (abonnement à la NewsLetter)

Podcasts :

iTunesU, HBS, LBS, LSE

Chaines sur YouTube :

TED, Ignite, The RSA, Forbes (www.youtube.com/user/forbes)

Réseaux Sociaux :

LinkedIn, Twitter, Google+, Viadeo

 - Twitter (@kratiroff ou twitter.com/kratiroff) ;

 - LinkedIn (fr.linkedin.com/in/kratiroff).

MOOC :

coursera.org, EDx.org, khanacademy.org, FUN, OpenClassrooms…

AUTRES :

 - SlideShare (fr.slideshare.net/kratiroff) ;

 - YouScribe (www.youscribe.com/kratiroff) ;

 - FlipBoard (flipboard.com/@kratiroff) ;

 - Scoop.it (www.scoop.it/t/marketing-by-kratiroff) ;

Outils Informatiques

MUST

-           Trello

-           Project management & Gantt

-           Mindmap

-           AdWords

-           GoogleDrive

Plus maitrise de Style de Word, Masque de PowerPoint et TCD d'Excel.

SHOULD

-           Canva

-           Unitag.io

-           GoogleAnalytics & GoogleMyBusiness

-           Slack, Mention, Hootsuite (ou Buffer)

Plus notions de HTML, CSS et JS avec SublimeText.

COULD

-           Prezi

-           Bunkr

-           Pearltrees

-           IFTTT

Plus notions de xCode pour iOS.
ACRONYMES UTILES
NEW : Liste des 220 acronymes du digital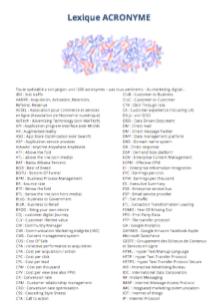 Télécharger le lexique des ACRONYMES
Lien direct
ici
Toute spécialité a son jargon, voici 220 acronymes – pas tous pertinents - du marketing digital…
404 : lost traffic
AAS : Average Active Session
AARRR : Acquisition, Activation, Retention, Referral, Revenue
ABC : Always Be Closing
ABM : Account Based Marketing (cf. CRM VRM)
ACSEL : Association pour commerce et services en ligne (Association de l'économie numérique)
ADEX : Ad Exchange plateform
ADX : Google DoubleClic Ad Exchange plateform
AdTech : Advertising Technology (voir MarTech)
AMP : Accelerated Mobile Pages
API : Application program interface (voir MtoM)
AR : Augmented reality
ARPU : Average revenue per user
ASO : App Store Optimization (voir Search)
ASP : Application service provider
AtAwAd : Anytime Anywhere Anydevice
ATF : Above the fold
ATL : above the line (voir media)
BAT : Baidu Alibaba Tencent
BOB : Best of Breed
BOFU : Bottom Of Funnel
BPM : Business Process Management
BR : bounce rate
BTF : Below the fold
BTL : below the line (voir hors media)
BtoG : business to Government
BtoR : Business to Retail
BYOD : Bring your own device
CCO : Chief Customer Officer
CDC : Cahier des Charges
CDJ : customer digital Journey
CDO : Chief Digital Officer
CEM : Customer Experience Management
CLV : Customer lifetime value
CM : Community Manager
CMI : Communication Marketing intégrée (IMC)
CMS : Content management system
COOC : Corporate Open Online Course
COS : Cost Of Sale
CPA : collective performance et acquisition
CPA : Cost per acquisition / action
CPC : Cost per click (Cost-per-Customer)
CPCV : Cost per completed view [CPCV = Cost ÷ Completed Views ]
CPL : Cost per lead
CPM : Cost per thousand
CPT : Cost-per-Transaction
CPV : Cost per view (see also PPV)
CR : Conversion rate
CRM : Customer relationship management
CRO : Conversion rate optimization
CSS : Cascading Style Sheets
CTA : Call to action
CtoB : Customer to Business
CtoC : Customer to Customer
CTR : Click Through rate
CX : Customer experience (including UX)
D3.js : voir DDD
DDD : Data Driven Document
DM : Direct mail
DM : Direct message Twitter
DMExCo : Digital marketing exposition and conference in Cologne
DMP : Data management platform
DNS : Domain name system
DR : Direct response
DSP : Demand Side platform
ECM : Enterprise Content Management
ECR : Efficient Consumer Response
ECPM : Effective CPM
EII : Enterprise Information Integration
EPC : Earnings per click
EPM : Earnings per thousand
ERP : Enterprise Resource Planning (PGI)
ES : Executive Summary
ESB : Enterprise service bus
ESP : Email service provider
ET : Exit traffic
ETL : Extraction Transformation Loading
FBX : FaceBook Ad Exchange
FMCG : Fast Moving Consumer Goods
FODM : Future of Digital Marketing by eConsultancy
FOMO : Fear Of Missing Out
FPD : First Party Data
FTP : File transfer protocol
GA : Google Analytics
GAFAMS : Google Amazon Facebook Apple Microsoft SalesForce
GESTE : Groupement des Editeurs de Contenus et Services en Ligne
GRP : Gross Rating Points
HK : hubert kratiroff
HTML : Hyper Text Markup Language
HTTP : Hyper Text Transfer Protocol
HTTPS : Hyper Text Transfer Protocol Secure
IAB : Interactive Advertising Bureau
IDC : International Data Corporation
IM : Instant Messaging
IMAP : Internet Message Access Protocol
IMC : integrated marketing communication
IOT : internet of things
IP : Internet Protocol
IPO : Initial Public Offering
IPTV : Internet television
IRL : in real life
IS : Income Statement
ISP : Internet service provider
IxD : design d'interaction
JS : JavaScript
JSON : JavaScript Object Notation
KOL : Key Online Leader
KPI : Key Performance Indicator
LTV : Lifetime Value
MarCom : marketing and communication
MarTech : Marketing Technology
MCA : market contact audit
MLM : Multi Level marketing
MNO : mobile network operator
MOFU : Middle Of the Funnel
MoMaMa : Modern Marketing Manifesto by eConsultancy
MOOC : Massive Open Online Course (COOC Corporate et SPOC Small Private)
MRM : Marketing Resource Management
MtoM : Machine To Machine
MVNO : Mobile Virtual Network Operator
MVP : Minimum Viable Product
MVT : Multi-variate testing
NATU : Netflix Airbnb Tesla Uber
NBC : Net Brand Contribution
NBIC : Nanotechnologie Biotechnologie Informatique (sciences de l'information et de l'intelligence) & sciences Cognitives
NFC : near field communication
O2O : online to offline (cf. Web To Store)
OI : opt-in
OO : opt-out
OS : open source
OS : Operating system
OTR : Off The Record
OTS : Opportunity to See
OTT : Over The Top
P2P : peer to peer (pair à pair)
PGI : Progiciel de gestion intégré (ERP)
PHP : Personal Home Page / Hypertext Preprocessor
PM : private message
POEMS : Paid Owned Earned Media (Social)
POP : Post Office Protocol
POS : Point of Sale
PPC : Pay per click
PPL : Pay per lead
PPV : Pay per view
PR : PageRank
QR Code : Quick response code
QS : Quality score
R : r-project.org : programming language for statistics
RA : réalité augmentée
RFI : Request for information
RFID : Radio Frequency Identification
RFM : recency frequency monetary
RFM : Récence Fréquence Montant
RFP : Request for proposal
RLSA : remarketing lists for search ads (Google)
RML : Report Markup Langage (XML)
ROBO : Research Online Buy Offline
ROI : Return on investment
ROMI : Return on marcom investment
RON : Run of network
ROPO : Research Online Purchase Offline
ROR : Ruby on Rails
ROS : Run of site
RSS : Really Simple Syndication
RT : Retweet
RTB : Real time bidding
RTD : Real time data
SaaS : Software as a service
SCU : Single Customer View
SD : service design
SE Traffic : Search Engine Traffic
SEA : Search Engine Advertising
SEM : Search engine marketing
SEO : Search engine optimization
SERP : Search engine results page
SFA : Sales Force Automation
SFD : Spécifications Fonctionnelles Détaillées
SFG : Spécifications Fonctionnelles Générales
SLA : Service level agreement
SM : Social media
SMM : Social media marketing / management
SMO : Social media optimization
SMP : Social media platform
SMS : Short message service
SMTP : send message transfer protocol
SNCD : Syndicat National Communication Directe
SoLoMo : Social Local Mobile
SOV : Share of voice
SRI : Syndicat des régies internet
SSL : Secure Sockets Layer
SSP : Supply Side platform
SVG : Scalable Vector Graphics
TCD : Tableau Croisée Dynamique (Pivot Table)
TLD : Top level domain (.com / .fr / .net)
TMS : Tag management system
TOFU : Top of Funnel
TOS : Terms of service
TPD : Third-Party Data
TRM : Total relationship management
UBM : Unité de Bruit Médiatique (indice Kantar)
UGC : User Generated Content
UI : User interface
URL : Uniform resource locator
USP : Unique selling proposition [Rosser Reeves]
UV : Unique visitor
UX : User experience (cf. CX)
VC : Venture Capital
VM : Viral marketing
VOD : Video on demand
VRM : Vendor Relationship Management
VU : Visiteur Unique
WOM : Word of Mouth
WOW : effet Waou
WTS : Web To Store
WYSIWYG : What you see is what you get
XML : Extensible Markup Language
ZMOT : Zero Moment of Truth
S'il manque un acronyme n'hésitez pas à nous le faire savoir par email : hubert at kratiroff.com Tout ce contenu est copyleft, n'hésitez pas à le partager.
---
LOGICIELS UTILES
hubertkratiroff

Vous pouvez me contacter par email pour une question : hubert {at} kratiroff . com

Suite / Retour
---